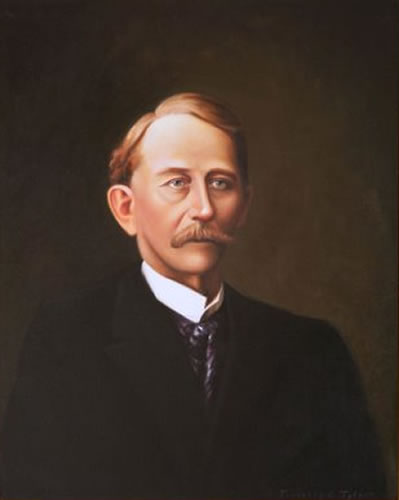 Artist: Timothy Tyler
Sponsor: Public Service Co. of Oklahoma
Dedication: May 5, 2008
Size: 24" x 36"
Type: Oil on Canvas
Location: Governor's Conference Room
Barnes was born in 1845 and spent his early life in Michigan.  He served in the Union Army during the Civil War.  He moved to Guthrie in 1890 to become Receiver of the United States Land Office.  Barnes served in the third and fourth Territorial Legislatures.  He became Governor of the Territory on May 24, 1897, and served until 1901, when he became president of a bank.  He later became Mayor of Guthrie.  He died in New Mexico in 1925 and his body was returned to Guthrie for burial.
Images are copyright of The Oklahoma State Senate Historical Preservation Fund, Inc. and the artist. Please contact Matt Duehning at 405-524-0126 or Matt.Duehning@oksenate.gov for further copyright information.