Butterfield Stage at Boggy Depot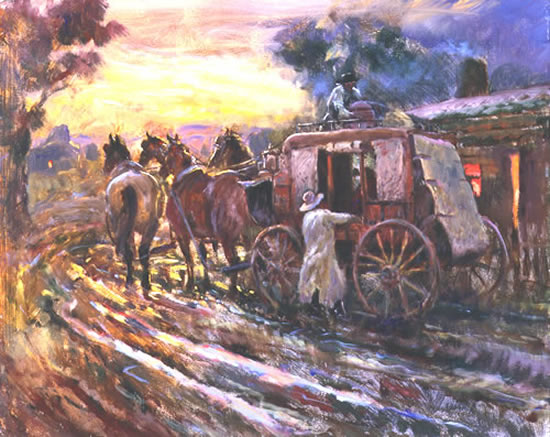 Artist: Joe Beeler
Sponsor: William Lobeck & Kathryn Taylor 
Dedication: April 26, 2004
Size: 16" x 20"
Type: Oil on Canvas
Location: Outside Senate Lounge
In 1858, John Butterfield won a government contract to carry mail from St Louis to San Francisco twice a week. Butterfield spent more than a million dollars to start up the company, employing over 800 people and running up to 250 coaches, 1,000 horses and 500 mules. The large, high quality coaches weighed about 2,500 pounds and cost about $1,300 at the time.
The Butterfield Overland Mail Company originally followed a southern route to avoid heavy mountain snows, and traveled through Oklahoma with stops at Boggy Depot, among others. The entire trip of about 2,800 miles was made in twenty-five days and sometimes less. Lack of water and hostile Indians plagued the route throughout its existence. Although the coaches had the mail as their first priority, they also accepted passengers. The coaches traveled at breakneck speed twenty-four hours a day with the only stops at station houses where horses were changed.
In February 1861, when the citizens of Texas voted to secede from the Union, the southern mail route was discontinued in favor of a more northerly route, but the old Butterfield Road was later used by both the Confederate and the Union armies.
Boggy Depot's contribution to Oklahoma outlasted its structures, for it was the source of the state's name. Boggy Depot was home to Chief Allen Wright, principal chief of the Choctaw Nation, who suggested the word "Oklahoma" ("Home of the Red Man") in 1866 as the name for the proposed Indian Territory. In 1907, the word was made the official state name.
The Boggy Depot State Park near Atoka in southeastern Oklahoma, is popular among travelers for its pleasant surrounding, recreational facilities and its significance as a major historical site.
Images are copyright of The Oklahoma State Senate Historical Preservation Fund, Inc. and the artist. Please contact Matt Duehning at 405-524-0126 or Matt.Duehning@oksenate.gov for further copyright information.