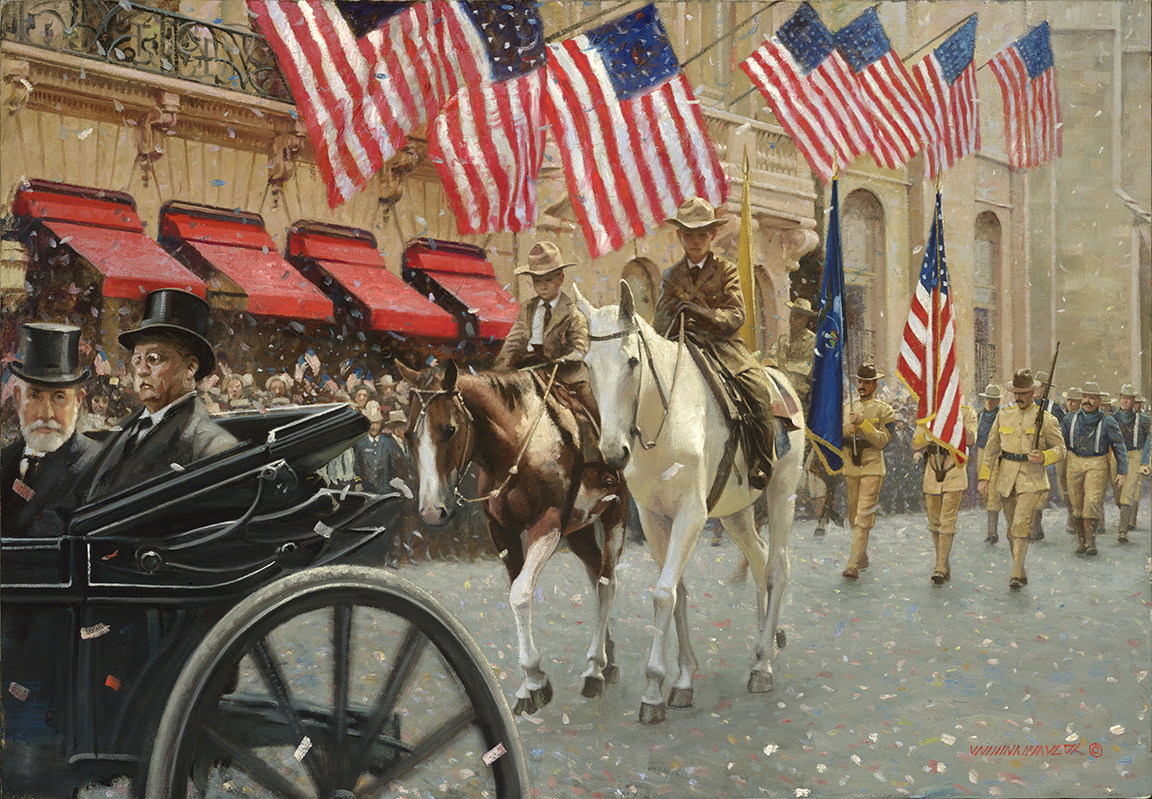 Artist: Mike Wimmer
Sponsor: Senator Don Barrington & Representative Don Armes
Dedication: May 14, 2014
Size: 24" x 36"
Medium: Oil on Canvas
Location: 2nd Floor Rotunda North Hall
Press: Media Announcements
Event Photos: Members and Friends
The Abernathy Kids lived with their father US Marshall Jack Abernathy in the town of Frederick, Oklahoma. The boys took their first journey in 1909 where Louis "Bud" aged nine and Temple five, encountered various Old West obstacles, including wolves and wild rivers, when they rode horseback more than 1,000 miles from Oklahoma to Santa Fe and back – ALONE!
The next year the brothers focused on New York City, which they reached after a month of hard riding. Orville Wright offered a ride in his airplane and President Taft gave them a warm welcome to the White House during the ride. The boys were widely followed by newspapers worldwide. Bud and Temple rode their Oklahoma ponies alongside Teddy Roosevelt and the Rough Riders in a victory parade with a million cheering New Yorkers.
For the trip home, the boys "bought" a Brush automobile, then drove it home to Oklahoma. Even at six and ten years old, Temple and Bud Abernathy were a national sensation. In the summer of 1911, they did their greatest ride. They rode nearly 4,000 miles, from New York to San Francisco, in sixty-two days. The Abernathy Boys made that historic ride without any adult assistance accomplishing an equestrian feat never equaled.
In 1913 the two rode from Oklahoma to New York City at the ages of nine and thirteen on the Indian Motorcycle. Through vibrant crisp colors, the artist Mike Wimmer captures the parade honoring the Abernathy Boy's in New York City with their good friend President Teddy Roosevelt.
Images are copyright of The Oklahoma State Senate Historical Preservation Fund, Inc. and the artist. Please contact Matt Duehning at 405-524-0126 or Matt.Duehning@oksenate.gov for further copyright information.