Art Treasures of the Oklahoma State Capitol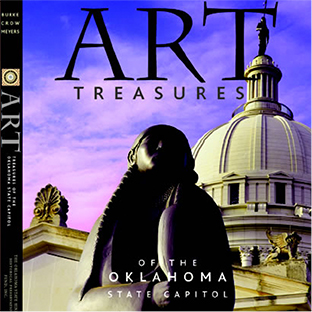 180 pages
Coffee table book style with full color photographs
Anecdotes about the history of the works and artists
Publication Date: November 1, 2003
Price: $39.95 - Regular Edition; $100.00 -
Linen-bound Special Edition
From monumental bronze sculptures that adorn its plaza, to magnificent murals, portraits and paintings that bring vibrancy to its interior, the Oklahoma State Capitol is rich with more than 100 works of art, each with its unique story of diversity and tradition. A celebration of this art has been documented for the first time in Art Treasures of the Oklahoma State Capitol. This book traces the histories of the capitol and the permanent artwork that glows beneath the majestic new dome.
An Oklahoma Centennial Project, this book is a masterful collaboration of the Oklahoma State Senate Historical Preservation Fund, Inc., the Oklahoma Arts Council, the Oklahoma Heritage Association and Friends of the Capitol, Inc. All proceeds of the book will be used for the conservation, maintenance, and commission of works for the State Capitol. The authors present it as a cultural legacy to future generations and as a beautiful tribute to the talented artists whose creativity has enhanced "the People's Capitol."
Images are copyright of The Oklahoma State Senate Historical Preservation Fund, Inc. and the artist. Please contact Matt Duehning at 405-524-0126 or Matt.Duehning@oksenate.gov for further copyright information.