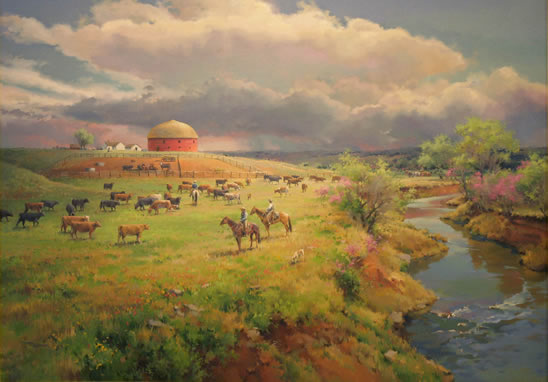 Artist: Linda Tuma Robertson
Sponsor: Rep. Ray & Suzanne Vaughn
Dedication: February 7, 2007
Size: 5' x 7'
Type: Oil on Canvas
Location: 4th Floor, House Lobby
Long before Route 66 cut its way through the state, a building destined to become a landmark was conceived and built in Arcadia, Oklahoma.
In the spring of 1898, William Harrison Odor, members of his family and his neighbors began construction on a unique barn structure in the green countryside of Oklahoma.  Odor believed a round barn would withstand an Oklahoma tornado. He fashioned the rafters from green lumber soaked in water from the nearby Deep Fork River. The rafter was then shaped to form the exact curve of the roof.  The Round Barn is two stories high, with a diameter of 60' and a height of 45'.  The upstairs loft has a wooden floor and an architecturally impressive ceiling.
When the barn was new, the lower level was used to shelter cattle, mules and hay. The upper level or loft was used for barn dances and other social gatherings.   In 1988, the barn was donated to the Arcadia Historical and Preservation Society, who restored the Round Barn with a group of volunteers.
Images are copyright of The Oklahoma State Senate Historical Preservation Fund, Inc. and the artist. Please contact Matt Duehning at 405-524-0126 or Matt.Duehning@oksenate.gov for further copyright information.