Admiral William J. Crowe, Jr.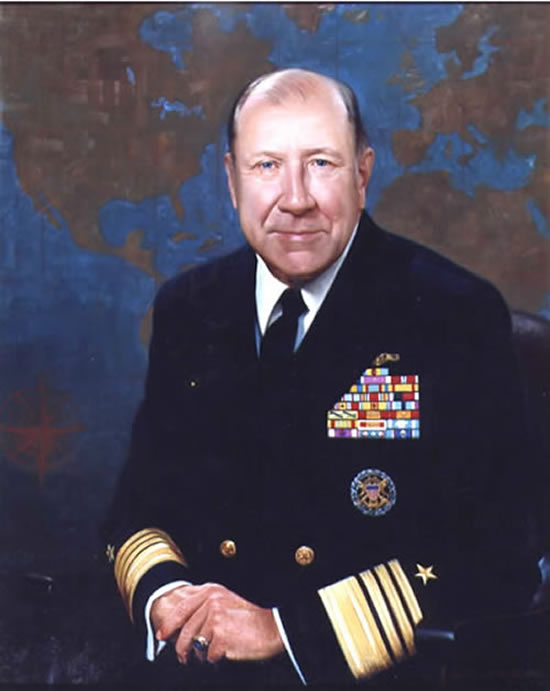 Artist: Mike Wimmer
Sponsor: Sen. Glenn Coffee
Dedication: April 14, 2004
Size: 24" x 30"
Type: Oil on Canvas
Location: 4th floor, Senate Lounge
William J. Crowe, Jr., was born in 1925. His family moved to Oklahoma in his youth and he grew up in Oklahoma City. After a year at the University of Oklahoma, Crowe transferred to the U.S. Naval Academy, graduating in 1946.
Following an early career in submarines, Crowe served in 1954–55 at the White House as the Assistant Naval Attaché to President Dwight D. Eisenhower. He received a Master's degree in Education from Stanford University. Crowe commanded the submarine, USS Wahoo, from 1957 to 1959.
In 1962, Crowe entered Princeton University for graduate studies and three years later, received a Ph.D. in Politics. He then served on the staff of the Chief of Naval Operations in Washington.
Crowe served in Vietnam as the Senior Advisor to the Vietnamese Navy Riverine Force in the Mekong Delta. Following his promotion to rear admiral, Crowe commanded U.S. Naval Forces in the Persian Gulf. He then was promoted to vice admiral and became the Deputy Chief of Naval Operations for Plans, Policy and Operations.
In 1980, he was promoted to 4-star rank and was named Commander in Chief of NATO forces in Southern Europe, with headquarters in Naples, Italy. In 1983, he was named the Commander in Chief of Pacific Forces, the largest geographic command in the U.S. military.
In 1985, President Reagan appointed Crowe the 11th Chairman of the Joint Chiefs of Staff, the nation's highest military position. He served until October 1989, having declined an invitation from President Bush to remain in the position. President Clinton named Crowe the Chairman of the President's Foreign Intelligence Advisory Board in 1993.
Simon & Schuster published Admiral Crowe's book, "In the Line of Fire," in 1994. Also in 1994, Crowe was confirmed by the Senate as the American Ambassador to the United Kingdom of Great Britain and Northern Ireland, a position he held until September 1997.
He is married to the former Shirley Grennell of Okeene, Oklahoma. They have three children.
Images are copyright of The Oklahoma State Senate Historical Preservation Fund, Inc. and the artist. Please contact Matt Duehning at 405-524-0126 or Matt.Duehning@oksenate.gov for further copyright information.