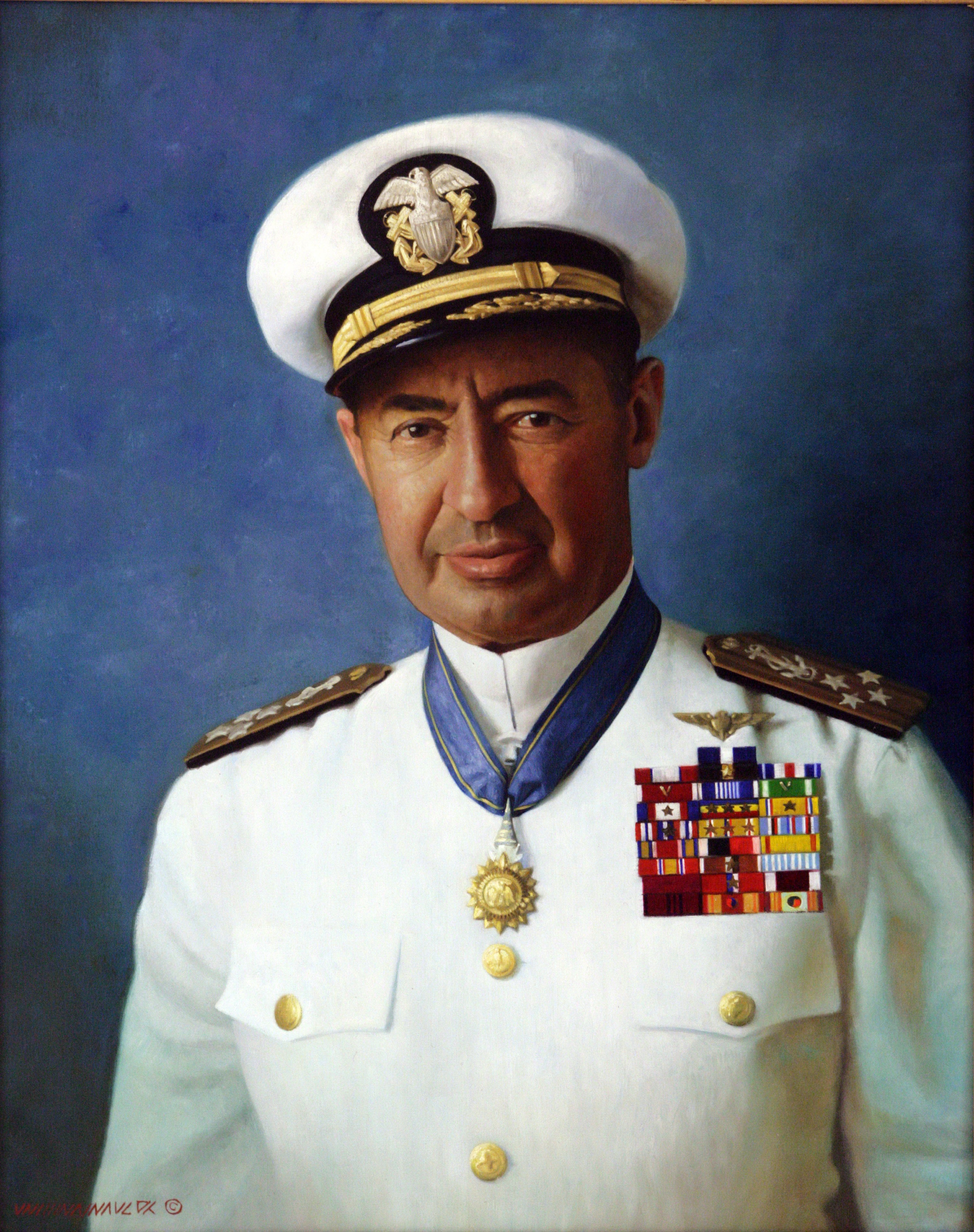 Artist: Mike Wimmer
Sponsor: Senator Glenn Coffee
Dedication: April 14, 2004
Size: 24" x 30"
Type: Oil on Canvas
Location: Governor's Conference Room
Joseph James Clark was born near Chelsea in Indian Territory, in 1893. His father was a Cherokee named William A. Clark and his mother was Mary Poly Ward. He attended Willie Halsell College in Vinita, Oklahoma, and Oklahoma A&M College (now Oklahoma State University) in Stillwater. In 1913, Clark received an appointment to and was the first Native American to graduate from the United States Naval Academy.
Clark was commissioned as an engsign in 1917. During WWI, Clark performed convoy duty in the Atlantic before becoming a destroyer commander. In 1925, he graduated from Naval Flight School in Pensacola, Florida. He became a naval air specialist and was instrumental in the development of offensive naval air power.
During World War II, he commanded the USS Suwanee (ACV-27). Following the loss of the USS Yorktown in the Battle of Midway, Clark was assigned to command the new USS Yorktown (CV-10) from April 1943 until February 1944. Yorktown's first combat operation was part of a strike against Marcus Island in August 1943.
Clark received a promotion to Rear Admiral in January 1944 and given command of Task Force 58. As commander, he made the USS Hornet CV-12 his flagship as he led naval forces in the Marianas campaign which included the Battle of the Philippine Sea. It was during that battle that he ordered his ships to turn their lights on at night to allow his planes to return safely at the risk of revealing the fleet's position to the enemy.
During the Korean Conflict, Clark was the commander of the Seventh Fleet. Clark was famous for his self-proclaimed "Cherokee Strikes," where he concentrated his fleet's efforts on the destruction of enemy weapons and supplies behind enemy lines. The Cherokee Strikes served as a much-needed morale boost for American frontline troops.
Worshiped by his crewmen and despised by others for his "call 'em as I see 'em" method of leadership, the flamboyant Jocko Clark was respected by all. Clark became the highest ranking naval officer of Native American descent in U.S. history.
His military awards include the Distinguished Service Medal, Navy Cross, Silver Star, and the Legion of Merit. Clark's career lasted more than forty years. After his retirement from the Navy in 1953, he lived in New York City and was chair of a construction and investment corporation.
Clark was made honorary chief of both the Sioux and Cherokee nations. He was also honored in 1969 by the National Aeronautic Association with the Elder Statesman of Aviation Award. Clark died on July 13, 1971, at the Naval Hospital in St. Albans, New York. He was buried in Arlington National Cemetery.
In honor of Admiral J. J. Clark, the Navy named a guided-missile frigate the U.S.S. Clark (FFG-11) in 1980, a ship nicknamed the "Determined Warrior."