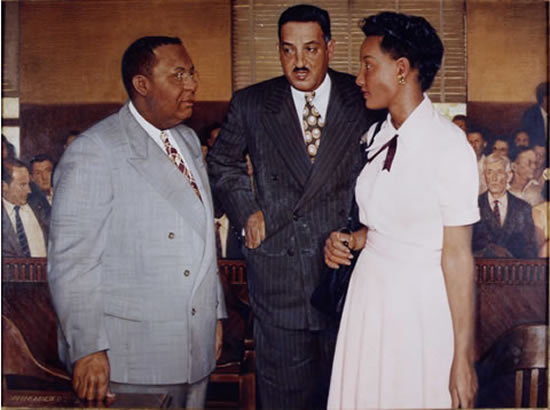 Artist: Mike Wimmer
Sponsor: Sen. Penny Williams
Dedication: February 10, 2004
Size: 40" x 30"
Type: Oil on Canvas
Location: 4th Floor, North Senate Hallway
Ada Lois Sipuel Fisher (1924–1995) was represented before the United States Supreme Court by attorneys Thurgood Marshall and Amos T. Hall in efforts to break the racial barriers in higher education in Oklahoma.
Ada Lois Sipuel was born in Chickasha and married Warren Fisher in 1944. She earned a degree from Langston University in 1945 and was chosen by the Oklahoma delegation of the NAACP later that year to serve as plaintiff in litigation to contest Oklahoma's segregation laws.
In January 1946, Ada Lois applied to the OU law school and was denied admittance because of race. Litigation followed in Cleveland County and the Oklahoma Supreme Court. The case of Sipuel v. Board of Regents of the University of Oklahoma was successfully petitioned to the U.S. Supreme Court by a writ of certiorari, and attorneys Hall and Marshall argued the appeal in January 1948. In a swift decision, the U.S. Supreme Court issued a ruling that entitled Ada to secure a legal education afforded by a state institution and that it be provided for her as soon as it would for any other class of citizens. However, it did not rule segregation unconstitutional.
In January 1948, the Langston College of Law was created in the Oklahoma State Capitol with three part time instructors and one potential student. Ada refused to attend. Instead, further litigation was initiated to prove the two law schools were not equal.
Ada Lois was finally permitted to attend classes at the University of Oklahoma law school in 1949, although under segregated conditions. She graduated in 1951 and passed the State Bar examination the same year. She practiced law in Chickasha and later became head of the Social Studies Department at Langston University. She earned a master's degree in history at the University of Oklahoma in 1968.
In April 1992, more than 45 years after she was denied admission to the law school, Governor David Walters appointed Ada Lois Sipuel Fisher to the University of Oklahoma Board of Regents. Her son, Bruce Fisher, now works for the Oklahoma Historical Society, and her daughter, Charlene Factory, works for the Oklahoma City Public School District. Ada's sister, Helen Huggins, lives in Oklahoma City.
Images are copyright of The Oklahoma State Senate Historical Preservation Fund, Inc. and the artist. Please contact Matt Duehning at 405-524-0126 or Matt.Duehning@oksenate.gov for further copyright information.