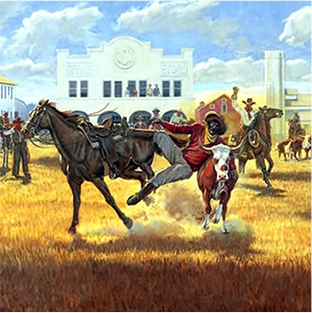 Artist: Harold Holden
Sponsor: Sen. Paul Muegge
Dedication: February 6, 2001
Size: 20" x 30"
Type: Oil on Board
Location: Outer Senate Chamber
The 101 Ranch was founded by Col. George Washington Miller along the Salt Fork River in the Cherokee Outlet in 1879. It was comprised of over 110,000 acres. Not only was it a working ranch, but also featured the world's greatest Wild West show from 1908-1932.
They also operated a dude ranch until 1932. The Millers employed many cowboys and cowgirls, including Hoot Gibson, Tommy Grimes, Neal Hart, Claude Sanders and a host of Indians, representing Cheyenne, Arapaho, Comanche, Kiowa, Shawnee, Sac & Fox, Ponca, Osage, Apache, Sioux, Cherokee and Navajo. Geronimo, of Fort Sill, was one of the major attractions. The show played in most of the major cities of the United States as well as England and the European continent.
Bill Pickett was a wiry cowhand who became a top performer in the Wild West show. He invented steer bulldoggin' and was the star of the show. The painting depicts what Pickett did best, in front of the ranch's company store.
Images are copyright of The Oklahoma State Senate Historical Preservation Fund, Inc. and the artist. Please contact Matt Duehning at 405-524-0126 or Matt.Duehning@oksenate.gov for further copyright information.