Kathryn Walker Richardson
Choctaw, Oklahoma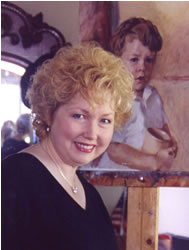 Kathryn Richardson believes the visual arts are capable of inspiring and uplifting the human spirit and soul. She paints subject matter that "represent the magnificence of the world—those things worth remembering." Kathryn believes a portrait must be a painting first, standing on its own merits with regard to composition and the technical strength of its execution.
Kathryn studied at Oklahoma State University and trained independently with artists Dennis B. Parker, Daniel Greene, Bettina Steinke, Harley Brown, and Morgan Weistling. She has also studied at the Art Students League in New York City and the Cape Cod School of Art.
She is a member of the American Society of Portrait Artists and the Pastel Society of America. She has served as a board member of the Oklahoma Arts Council.