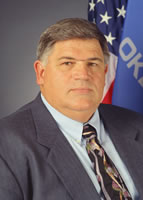 Senator Johnnie Crutchfield
Session to Conclude with Record Funding for Education
Members of the State Senate voted Friday to fund an $11.4 million supplemental appropriation for public schools, Appropriations Chairman Johnnie Crutchfield said.
House passage will allow the money to be used to help schools off-set costs that have arisen over the last five years as a result of a $3,000 pay raise for all state teachers which became effective in 2000.
"We have made it a priority in the final days of this session to find a way to fill this budget hole for our public schools," said Crutchfield said. "It wouldn't make much sense to announce record funding for public schools for next year and leave this growing financial burden unattended."
Crutchfield explained that the $11.4 million in Senate Bill 60, which passed 43-1, would come from unbudgeted Fiscal Year 2005 carryover in the House Bill 1017 fund. The bill calls for the money to be repaid to the HB 1017 fund from FY 2006 general revenue over the course of the coming fiscal year.
The Ardmore Democrat said he is "extremely proud" of the priority that lawmakers have put on funding education in this legislative session. Lawmakers have already appropriated $40 million in supplemental funds for schools for the current fiscal year and increased funding for common education by more than $145 million in Fiscal Year 2006. SB 60 would up the supplemental total to more than $50 million.
Higher education, Crutchfield said, will receive $87.7 million in new funding. Those funds include $28 million in expected revenue from the Oklahoma Education Lottery to be used to pay debt service on a $500 million bond issue approved by lawmakers earlier in the session.
"This additional funding will keep tuition increases at a minimum for next year, lessening the burden on young Oklahomans, who are seeking a college education, and their parents," Crutchfield said.
The Senator also said that CareerTech will receive a $6.4 million funding increase in FY 2006.


Contact info
Democrat Leadership Assistant's Office- (405) 521-5605