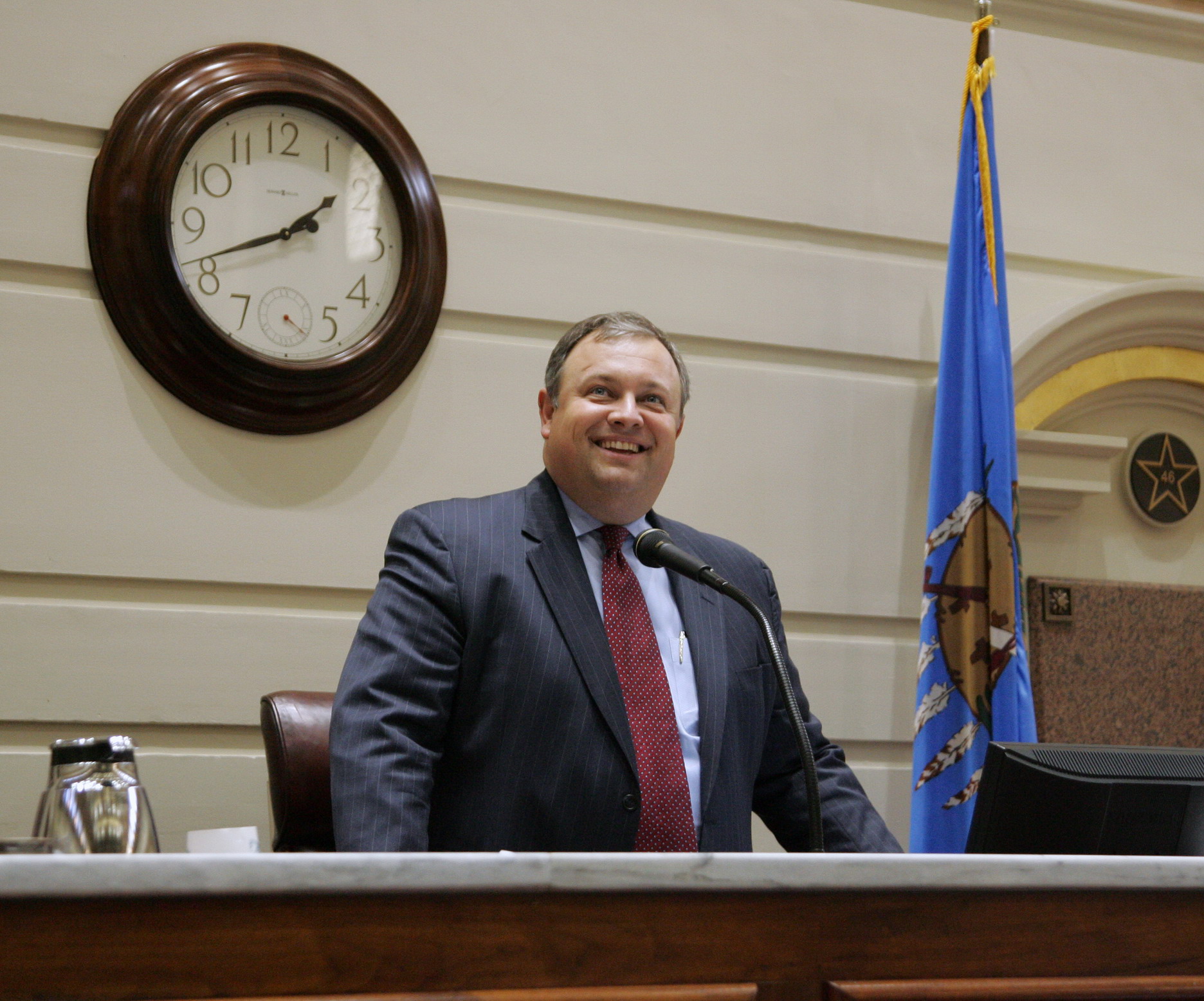 Senator Glenn Coffee presides as Co-President Pro Tempore of the Senate
History will be made Sunday in the Oklahoma Senate when Republican Senator Glenn Coffee officially becomes the first Republican to hold the office of Senate President Pro Tempore.
"This is a historic day for the Oklahoma Senate. It is the first time in state history that a Republican senator has held the office of Senate President Pro Tem," stated Senate Republican Floor Leader Owen Laughlin, R-Woodward.
Democrats had controlled the Senate since statehood until the 2006 elections, when Republican gains created a 24-24 tie. As part of a power-sharing agreement adopted in January, Senator Mike Morgan (D-Stillwater) and Coffee (R-Oklahoma City) were elected by senators to jointly run the Legislature's upper chamber.
For most of the two-year agreement, Morgan serves as President Pro Tempore with Coffee as Co-President Pro Tempore. However, during the month of July, 2007, Coffee assumes the office of President Pro Tem and Morgan will be Co-President Pro Tem.
"Serving with the first Republican pro tem was very important for those of us who are term-limited next year. It is symbolic of the equality of the two parties in the Senate, and represents the gains Republicans have made with our message of economic freedom, traditional values, and government accountability," Laughlin said.
Because Coffee and Morgan continue to share equal authority, there is no change in the day-to-day business of the Senate. However, during the month of July, Coffee is third in the line of succession as President Pro Tempore, and will serve as acting governor if Gov. Brad Henry and Lt. Gov. Jari Askins are both out of state.
Coffee said for Republicans, gains in the Senate have helped them advance a conservative legislative agenda.
"For Republicans, this is not about power or control. It is about giving good policies such as lawsuit reform, tax relief, education reform, and pro-life a chance to be heard," Coffee said. "Under Democrat control, these issues went nowhere in the Senate; but, with a tie, we have been able to vote on and pass many of these bills," he said.
"It is a historic time for the Republican Party, and for the current and former senators who have worked so very hard over the years to elect enough Republicans to put one of our own in the pro tem's seat," Coffee stated.
Coffee said the Senate's power-sharing agreement has worked well.
"I want to thank Senator Morgan and every senator for working so hard to make the power-sharing agreement work so well. The tie could have resulted in gridlock, but instead the Senate had a very successful legislative session for the people of Oklahoma," Coffee said.
Contact info
Senator Coffee's Office - (405) 521-5654 Senator Laughlin's Office - (405) 521-5626