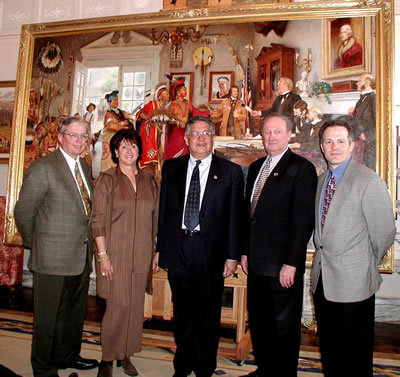 Robert and Roxana Lorton, Osage Chief Charles Tillman, State Senator Charles Ford and artist Mike Wimmer with the painting of the Osage Treaty of 1825.
OKLAHOMA CITY - With the Oklahoma State Senate, guests and members of the public looking on, another original painting depicting a key historic event in Oklahoma history was dedicated today during a ceremony in the Senate chamber.
The painting, which is seven-feet high and eleven-feet wide by award winning Oklahoma artist and illustrator Mike Wimmer, depicts the Osage Treaty of 1825, and will hang near the entrance of the State Senate chamber.
"I am extremely proud to have added another piece to the State Capitol's growing collection of original artwork. These pieces each represent a part of our state's unique history, reaching back from before statehood to modern day," said Senator Charles Ford, President of the Oklahoma State Senate Historical Preservation Fund, Inc.
All of the artwork commissioned by the State Senate Historical Preservation Fund has been paid for through private sources. Funding for the painting "The Osage Treaty of 1825" was provided by the Tulsa World, and the Robert Lorton family. Lorton is the chairman of World Publishing Company and publisher of the Tulsa World.
Contact info
Senate Communications Division - (405) 521-5605